Daejeon emerged as the central pole of Science and Technology of Korea in the 1970s with the opening of KAIST. Today, it is home for cutting-edge science and technology industries, including many major public and private R&D institutes, and has played a crucial role in Korea's economic growth. Daejeon has beautiful natural scenery surrounded by three major rivers, Lake Daecheong, and mountains. Daejeon Dullesan-gil, Daecheongho Obaek-ri-gil, and three major rivers are central places for citizens to walk, exercise, and enjoy leisure activities.
Experience the vibrant cultural scene of Daejeon this October with an exciting lineup of festivals and events! From music and arts to food and science festival, there's something for everyone. Don't miss out on the fun – stay tuned for updates!
Places near Daejeon Convention Center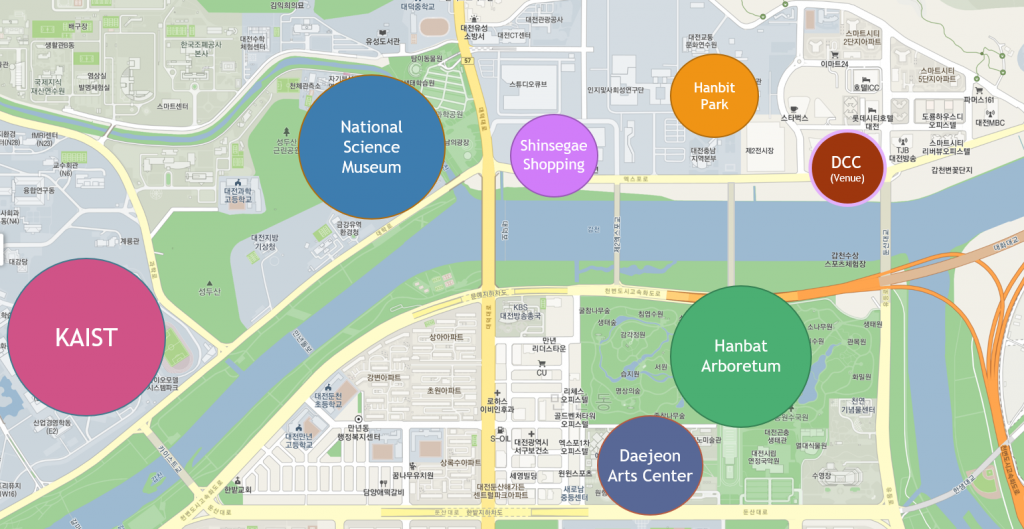 KAIST

KAIST was founded in 1971 to educate scientists and engineers who would work for the nation's industrialization and to conduct innovative research that would drive the nation's economic growth. The university has grown to be a world-renowned university for science and technology. It currently runs 5 colleges with 26 schools and departments. KAIST Vision Hall exhibits KAIST's past, present, and future (map).
Hanbat Arboretum (한밭수목원)

Hanbat Arboretum (map) is one of the largest urban arboretums in Korea, and provides trails to give peace of mind. Higly recommended to visit. It consists of West Garden (tall plants), East Garden (shorter plants and pond), and Tropical Plant Garden within an area of 387,000㎡. Closes at 7pm. Admission: Free.
National Science Museum (국립중앙과학관)

National Science Museum is the Korea's representative science museum with over 1.5 million visitors annually (map). You can visit various exhibition halls such as Future Technology Hall, Science and Technology Hall, Natural History Hall (with real T-rex and triceratops fossils), Human Evolution Hall, and Astronomical Observatory. 20-minutes walking from the DCC. Admission: Free (except some exhibitions). Hour: 9:30am-5pm. Closed on Monday. Check out their recommended 1 hour, 2-3 hours, all-day courses from here.
Daejeon Shinsegae Art & Science (신세계 백화점 아트앤사이언스)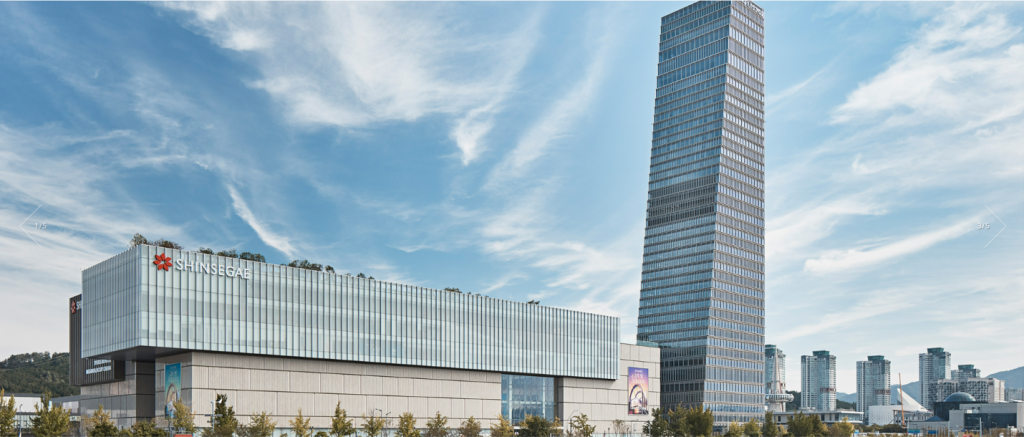 Daejeon Shinsegae Art & Science is a high-end shopping complex located next to the DCC (map). Boasting 36 gourmet restaurants, a food court, state-of-the-art theaters, an aquarium, an art gallery, a rooftop garden, and an array of luxurious shops, the department store (on the left in the figure) offers an immersive experience that caters to a wide range of interests. The Expo Tower (on the right in the figure) has a 5-star hotel as well as Starbucks and Paul Bassett cafes on the 38-39th floors, where you can overlook the town.
Daejeon Art & Culture Complex (대전 문화예술단지)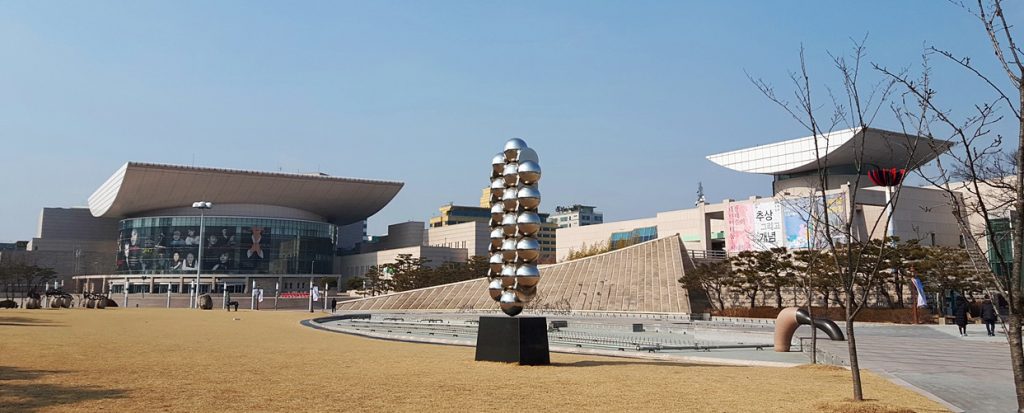 If you are an art-lover, check out performance and exhibition schedules of Daejeon Art & Culture Complex (map). Daejeon Arts Center hosts various performances such as operas, musicals, concerts and dances, and Daejeon Museum of Art exhibits fine art works. Lee Ungno Museum houses the works of Goam Lee Ungno, a world-famous artist born in Daejeon. If you are interested in Korean traditional music, visit Daejeon Yeonjeong Korean Traditional Music Center. All are within 20-minutes walking from the DCC.
Daejeon Tour Information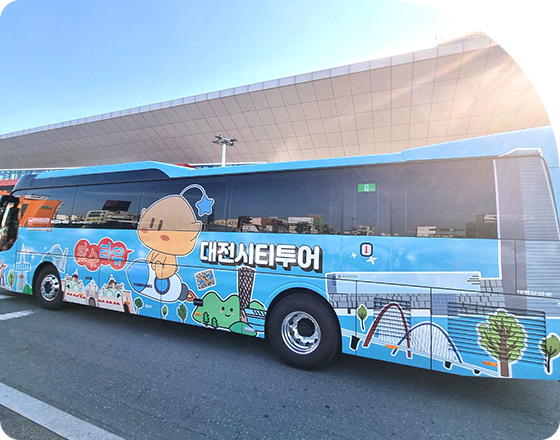 Discover the charming city of Daejeon with a range of guided tours and convenient hop-on-hop-off bus tours. Deajeon City Tour offers guided tours with a variety of routes, with different options available on each day of the week, allowing you to explore the city's hidden gems with ease. For a more flexible experience, their hop-on-hop-off bus tours operate on Saturdays and Sundays, providing you with the freedom to create your own itinerary and explore at your own pace.
Festivals and Events
Daejeon POPCON 2023 (Pop Culture Convention)
Daejeon POPCON 2023 (대전 국제 캐릭터 & 콘텐츠 페어) will be held from Oct. 10 to Oct. 15 at Daejeon Convention Center #2. This event will host various pop culture exhibitions and activities including characters, video games, toys, and plastic models.